To maintain their competitive edge, graphic designers and brand owners must see – and feel – the latest trends in printing, finishing and paper. That's what the PaperSpecs Live [unboxed] "mini design conference" is all about, merging online presentations with real-life print samples sent to attendees in advance of the event.
And the next Live [unboxed] event, taking place Sept. 16th, promises to be the most magical yet.
Special guest Bill Gardner (LogoLounge, Gardner Design) will reveal how the pop-up print pieces he creates for his clients enhance their brand recognition year after year. Attendees will also find an exciting sample of one of these 3D creations in their Print Sample Box!
"Designers don't have the time to research the latest trends," observes PaperSpecs Founder Sabine Lenz. "Not only does our Live [unboxed] event bring them the latest printing, finishing and paper trends in one 3-and-a-half hour experience, but our guest speakers – as well as the samples attendees receive in their Print Sample Boxes – remind them why they fell in love with print in the first place."
PaperSpecs Live [unboxed]
Ticket Sales Close: Sept. 2, 2021
Event: Sept. 16, 2021
10 AM – 1:30 PM PT
Cost: $27* (includes ticket & Print Sample Box)
To Register: bit.ly/3ixfzi6
During PaperSpecs Live [unboxed], the hands-on/virtual event for brand owners and designers, attendees will receive a box full of inspiring print samples and spend time with industry leaders who will show them how to supercharge their print projects and create the most compelling printed pieces.
"I can't stop thinking about your event. The way you set it up with the different materials in the box as well as the online presentations – so well done that I can't wait for the next one!"
– Ellen H.
Agenda
During this 3.5 hour mini-design conference attendees will:
Have the chance to network with peers in virtual breakout sessions
Discover how Bill Gardner (LogoLounge, Gardner Design) weaves his pop-up paper magic
Join Sabine Lenz as she goes deep on one of the year's most powerful design trends
Enjoy hands-on printed samples (including an exciting 3D pop-up)
Get tips from industry insiders
and so much more!
"Thank you for putting together a terrific conference! I enjoyed every aspect of it. I picked up many tips and exciting new ideas."
– Heather Bednorz
Registration Closes Sept 2nd
Registration for PaperSpecs Live [unboxed] closes on Sept. 2nd to allow time for shipping. Be sure to get your tickets now because once they're gone, they're gone!
*Note: Ticket price applies to addresses within the U.S. and Canada only; a shipping fee of US$25 (for the Print Sample Box) applies for other international addresses.
Thanks to our PaperSpecs Live [unboxed] partners for helping to make this event possible: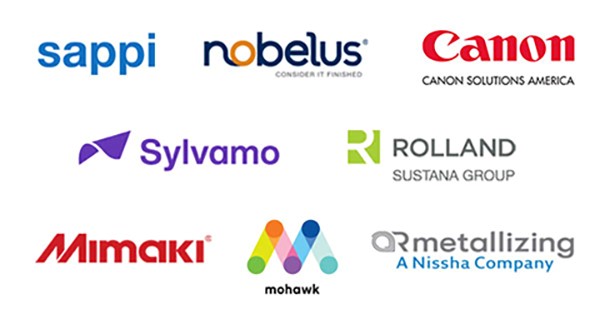 The preceding press release was provided by a company unaffiliated with BRAND United. The views expressed within do not directly reflect the thoughts or opinions of BRAND United.