Case Study
Account-Based Marketing Combined With Dimensional Mail Nets Major ROI for Invoca
Account-Based Marketing Combined With Dimensional Mail Nets Major ROI for Invoca
The call tracking and analytics company saw response rates climb when mailing informational kits to qualified leads
Digital seemingly dominates just about everything in marketing today, and that may be its biggest problem. "Digital fatigue" can depress email opens and banner clickthroughs, simply because of over-exposure — even among loyal customers and otherwise-interested prospects.
To break through the clutter and reach out to new prospects, call tracking and analytics company Invoca deployed a multichannel campaign anchored by a unique direct mail element that was small in volume, but huge in impact. In an effort to educate marketers on its AI-powered call analytics platform, Invoca deployed account scoring to identify companies that fit its ideal customer profile, and mailed oversized "dimensional" informational kits to each one. The mailings, combined with near-immediate follow-up phone calls from sales, resulted in a 1,500% return on campaign marketing investment.
Getty Images / Luis Alvarez
BUILDING A CAMPAIGN TO ILLUSTRATE THE DYNAMICS OF INBOUND PHONE ANALYTICS
Based in Santa Barbara, Calif., Invoca's technology provides marketers with data about what prompts inbound phone calls from interested customers. Knowing what marketing campaigns drive these calls and their outcomes allows marketers to refine their campaigns, increase conversion rates, and better personalize the customer journey.
The company, founded in 2008, primarily serves medium- to large-enterprise companies that receive a high volume of inbound phone calls. Ari Echt, director of account-based marketing at Invoca, says the company enjoys "a solid leadership position among call analytics companies," pointing to its high ranking in the report "The Forrester New Wave: AI-Fueled Speech Analytics Solutions, Q2 2018," and being named best call analytics platform for 2019 by ClickZ and Search Engine Watch.
Nevertheless, according to Echt, call analytics is not well understood by many marketers. In order to continue to grow, the company needed to develop a marketing campaign that was educational, as well as compelling, to spread the word effectively about the value of its technology.
"The problem has been that marketers have been relying on all sorts of digital data, but never see data from phone calls," Echt says. "We have customers where 90% of their conversions and revenue happens over the phone, but prior to Invoca, they've had zero visibility into that. Marketers can measure clicks and online interactions, but what they have often ignored, because the technology is so new, are the campaign elements that lead a customer to pick up the phone. We needed to help marketers understand the importance of inbound phone call analytics."
"Today, especially in the account-based marketing world, the larger, more expensive direct mail piece is important. Not everyone is doing it. But when they do, it can really cut through the noise. Someone may have already gotten hundreds of emails today, but only one direct mail piece this week, and nothing at all like this."
Ari Echt
director of account-based marketing,
Invoca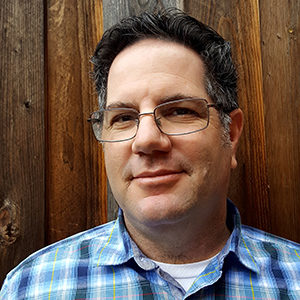 COMBINING ACCOUNT-BASED MARKETING WITH DIRECT MAIL
Invoca's marketing efforts have included a variety of methods, including email, events, and digital display ads, as well as direct mail. While direct mail can explain the company's solutions well, Invoca had found that the typical "batch and blast" approach to direct mail wasn't working. Indiscriminate mass mailings can be expensive, compared with digital campaigns, and the company wasn't experiencing the response rates it hoped for.
Further, Invoca wanted to move toward an account-based marketing (ABM) approach, targeting and nurturing well-researched companies and accounts, and determined that mass mailing wasn't compatible with an ABM marketing program.
To more effectively demonstrate to prospects the value of its call tracking and analytics platform, Invoca and its tactile marketing technology partner, PFL, wanted to explore how a smaller mail volume to better qualified prospects, along with quick sales outreach at the moment of consideration, could yield better results.
"Invoca came to us with an issue that many marketers, and especially digital marketers, face today, which is how to get engagement when the clutter is increasing," says Daniel Gaugler, CMO at PFL, a martech firm specializing in tactile marketing automation and sales enablement. PFL also provides clients with printing, mailing, and fulfillment services, and has worked with clients to incorporate large-format dimensional mail into multichannel campaigns to truly stand out among the competition.
"In the past, it was easy to get attention with mail or Google Ads, and people weren't overwhelmed by it," Gaugler says. "But that's not true anymore. Invoca told us its value would resonate if they could just demonstrate it more effectively. We decided that the solution was an impressive, dimensional direct mail piece."
---
The dimensional mailing, sent in a letterhead-sized box, was hard to miss once delivered to the qualified recipient, and was definitely attention-grabbing.
ADDRESSING THE REALITY OF MASS MAILINGS
Choosing an optimal way to reach any audience is more varied today than ever. Social media, digital advertising, traditional and streaming TV, email, direct mail, print ads, and so much more, complicate the media-buying landscape. Invoca's initial challenge was to find a solution that would compel engagement and, importantly, would signal its sales team to make a quick follow-up.
First, Invoca had to deal with the pricey nature of direct mail. Most marketers will end up spending between 50 cents and $3 per piece on a direct mail campaign; but volume, design, copywriting costs, formats, and postage rates can drive this up dramatically. It wouldn't be a problem in and of itself, if the payoff were strong, but previous results for Invoca were poor — a response rate of just 1% via the mass-mailing approach was typical.
PFL notes that typical response rates for a direct mail campaign can range up to about 5% when used by itself, but when integrated as part of a multichannel campaign, response rates can soar to over 20%. Given its previous poor performance, Invoca was having a tough time justifying more campaigns in the same typical way.
The company also struggled with inefficiencies. There was a lack of an integrated method of managing direct mail deployment — everything went through an agency, with production, fulfillment, mailing, and more, handled by others. Also, the sales and marketing team was losing valuable time when they had to focus on tasks like data entry and spreadsheet cross-comparison. While manually entering and analyzing campaign data, Invoca's reps had to estimate mail delivery times to schedule follow-up.
"Invoca came to us with an issue that many marketers, and especially digital marketers, face today, which is how to get engagement when the clutter is increasing."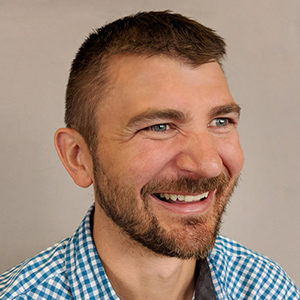 TAKING TARGETED DIRECT MAIL CAMPAIGNS TO A NEW (LARGER) DIMENSION
But Invoca wasn't about to give up on direct mail. "There's a lot of education that has to happen, and you have to break down the preconceptions digital marketers have about phone calls," says Echt. "Direct mail gives you a chance for more dedicated reading and consideration time by the recipient, as opposed to those 150 emails in their inbox."
Echt also notes that no channel works well on its own. The company's marketing efforts include: display ads, email, and phone follow-ups. Optimove research finds multichannel campaigns are 37% more effective than using single channels alone.
The difference with Invoca's new approach to the direct mail channel was the concept of one-off mailings — that is, triggered mailings via FedEx of single, large-format kits to high-value prospects at target accounts, containing information about Invoca's services.
Critically for the campaign, FedEx signals the sender when a package is actually delivered. This notice triggered a phone call from sales — which proved to be a breakthrough for Invoca, but unfortunately isn't often used by many companies.
"Invoca used our capabilities in manufacturing, producing, and fulfilling large-format direct mail pieces that get attention when they land on someone's desk," Gaugler says. "After that, Invoca's sales team did its thing, working the phones terrifically."
The PFL mailing was substantial, and fully deserved its description as "dimensional." Each mailing consisted of a letterhead-sized box, which opened up to reveal a calculator, pen, and a worksheet with instructions on how the recipient could conduct an audit of his or her current marketing results, compared with what could be achieved with Invoca's call analytics platform. The mailer was big; hard to miss, once delivered to the recipient; and cost Invoca $23 per piece. And the FedEx delivery signaled to the recipient the mail piece's importance.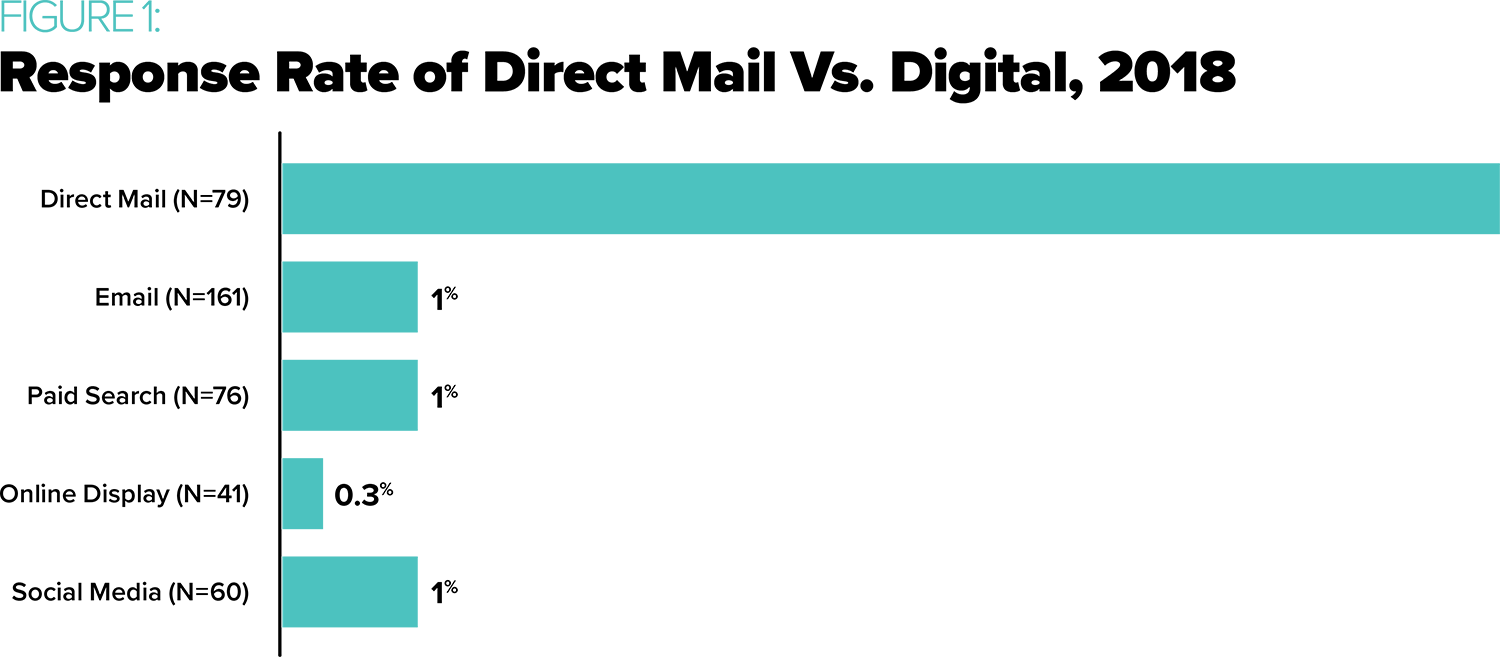 ---
According to findings from the "ANA/DMA 2018 Response Rate Report: Performance and Cost Metrics Across Direct Media" report, direct mail continues to pull a higher response rate than digital marketing. Source: ANA/DMA
USING DIGITAL AND DIMENSIONAL MAIL TO CREATE AN OMNICHANNEL CAMPAIGN
Invoca kicked off its newly conceived omnichannel campaign with corresponding email and display ads. Using both Salesforce and the marketing automation platform Marketo, PFL tracked prospects who reached a certain lead score; which, in turn, triggered the FedEx delivery of the dimensional mailing containg the educational materials; and, in turn, calls to the recipient from Invoca's sales representatives.
"Today, especially in the account-based marketing world, the larger, more expensive direct mail piece is important," says Echt. "Not everyone is doing it. But when they do, it can really cut through the noise. Someone may have already gotten hundreds of emails today, but only one direct mail piece this week, and nothing at all like this."
The marriage of digital with analog dimensional mailings exhibited its strength. The Invoca team easily swapped out content and copy for each batch of items, with personalization to enhance the customer experience. The ability to customize virtually any field in Marketo, combined with an optimized collaboration between marketing and sales, was the key to identifying and targeting key accounts.
"This was Invoca's value proposition," Gaugler says. "Its messaging was creative, asking the recipient how much revenue he or she might be missing without using the company's phone call analytics. That was the point of the calculator and the worksheet. There also was an offer of a free $50 Amazon gift card — but only if the prospect agreed to a 30-minute demonstration."
Gaugler agrees that direct mail isn't cheap, considering the cost of postage and printing. And mailing lists have to be really good. "But today, especially in the account-based marketing world, even if the prospect gets one piece of direct mail this week — depending on how well it's executed — it can have a lot of tailwind behind it," he notes.
---
Within the Invoca mailing, recipients received a calculator, pen, and a worksheet with instructions on how they could conduct an audit of current marketing results, as well as an offer of a $50 Amazon gift card if they agreed to a 30-minute demonstration.

DIMENSIONAL MAIL, PAIRED WITH SALES FOLLOW-UP, NETS MAJOR ROI
Marketers can't manage what they don't measure, and Invoca's automated dimensional mail campaign took measurement to the max. The company was able to directly tie its direct mail campaign to new prospects in the pipeline, as well as revenue growth, by tracking engagement, demo form submissions, demo completions, and opportunities won. This is how it breaks down:
For every dollar spent on its direct mail program, the campaign generated $40 worth of sales pipeline, and approximately a five-fold return in actual bookings in the first year.
Response rates rose from 1% from indiscriminate mass mailings to up to 15%, from a per-person perspective; and up to 27%, from an account perspective.
In addition to higher response rates, the company maintained the same close rate, resulting in a surge in revenue.
Estimated ROI from the campaign was 1,500%.
With automated sends, notifications, and data capture, Invoca invested significantly fewer labor resources in its direct mail programs, eliminating time-consuming data entry and tracking. Sales no longer had to worry about uploading, cleansing, and cross-referencing data; they were now free to focus on creating meaningful interactions with their prospects.
Echt acknowledges that expensive dimensional direct mail pieces aren't for every company. "The math on printing/mailing costs, response rates, and average deal size has to make sense," he says. "But even with smaller ticket items, the higher response rates of direct mail might still might make the investment worthwhile."
Gaugler also is thrilled by Invoca's success in using dimensional mail, informed by digital intelligence and timely phone calls from sales reps.
"It's great seeing PFL clients like Invoca have this kind of success," Gaugler says. "They're savvy, sophisticated marketers with a good handle on their numbers, and confidence in their response rates."