Pro Tip
4 Ways Augmented Reality Creates Breakthrough Customer Experiences
In an increasingly crowded marketplace, how can you get your marketing campaigns to leave an impression? One of the tools marketers are using to do just that is augmented reality, or AR. When AR tactics are successfully incorporated into marketing campaigns, truly breakthrough customer experiences can be created that will keep them coming back.
While some people still think of augmented reality as a gaming gimmick (thanks to the success of apps like Pokémon Go) others are realizing it offers all sorts of possibilities when used as a marketing technology. According to Statista, the global market for AR is projected to grow to approximately $90 billion in the next two years. In addition, revenue generated by AR is expected to be three times higher than virtual reality (VR).
Take a look at some practical ways to take advantage of the power of augmented reality, along with examples of AR marketing choices that have served brands well.
Spark Interest With Product Packaging
A product label is one of the primary points of contact with your customer. It provides a chance to grab the consumer's attention and quickly showcase why your brand is better than the rest. However, you're battling against the design and market research of every other brand.
AR can add a new layer to your product packaging, serving as a provocative way to evoke interest and prompt conversions. By creating an interactive customer experience right off the bat, you will boost engagement and interest in your brand, leading to additional conversions. This can also work to your advantage by creating buzz about your product, which is exactly what happened with 19 Crimes.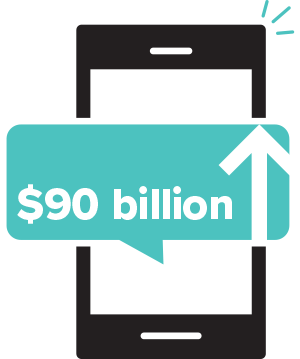 According to Statista, the global market for
AR is projected to grow

to approximately

$90 billion

in the next two years. In addition, revenue generated by AR is expected to be three times higher than virtual reality (VR).
The winery 19 Crimes created a set of breathtaking AR labels for its wine bottles in 2017. The labels featured real-life prisoners transported to Australia in the 1700s — and the AR let those labels come to life so each prisoner could tell his story about moving from being a criminal to a colonist.
The interactive labels, which used image recognition techniques, were incredibly eye-catching and so successful that the company quickly expanded from utilizing the technology on three wines to employing it on its entire product line. According to Better Retailing, 19 Crimes has grown by 60 percent in volume sales and 70 percent in value since launching the marketing campaign. What story does your brand have to tell?
Enhance the Customer Experience at Brick-and-Mortar Stores
AR has the potential to create a truly unique customer journey for those visiting brick-and-mortar stores. With retailers constantly trying to find ways to bring customers back into their storefronts, AR could serve as a great solution. A few of the ways utilizing AR technology in retail can create engaging customer experiences include:
Learning more about the product and how it can be used
Comparing similar products in the same store
Taking customers on a virtual tour of new products
Helping customers easily locate products
Allowing customers to preview how a product would look without trying it on
Finding discounts
And more
Like AR technology, the possibilities are somewhat endless.
Japanese apparel retailer Uniqlo incorporated AR into its brick-and-mortar stores in specially designed rooms. Each room utilized a "Magic Mirror" — an LCD screen that doubled as a mirror. Consumers could choose clothes, then see how outfits would look in different colors. The use of AR technology helped boost Uniqlo's reputation for providing a unique and appealing customer experience that heightens customer consideration of products they might otherwise overlook.
Boost Brand Awareness With High-Publicity Events
Because AR is so attention-grabbing and — for a while at least — still the hot new thing, it's a great choice to beckon new customers with a highly visible event or marketing stunt. Consider setting up events where passers-by who may be part of your target audience can interact with AR elements, in turn attracting other passers-by to stop and see what's going on.
That's what Lynx did with its Excite fragrance, setting up huge events in public plazas in England, Turkey and Australia. Pedestrians were attracted to AR angels who appeared have fallen from the sky. Utilizing a large digital screen, people were able to interact with the angels in real-time, creating an event that harnessed a lot of awareness, interest and overall buzz. Lynx continued to capitalize on the AR event by filming it and distributing the video to its customers and prospects worldwide. The video subsequently received more than 1.7 million views on YouTube.
Create an Interactive Online Shopping Experience
In a crowded market, personal products like clothing and beauty items can be intensely difficult to market. Consumers worry about buying something that looks great online, but just doesn't work once it arrives on their front porch. Clothing can be the wrong fit, makeup can be the wrong shade, and who knows what that hair color will end up looking like? Utilizing AR technology can ease this worry for customers, allowing them to feel more confident in their purchase. Similar to how AR can be used in an in-store environment, it can also be used online to allow customers to try on products they are considering.
L'Oreal has implemented AR technology that lets customers try out new looks without ever placing an order. Makeup Genius is an app that lets users upload a selfie and then try all sorts of makeup looks. Product suggestions encourage customers to experiment with products they might never try otherwise, which also helps boost sales. Of course, it's also easy to purchase products right in the app. A parallel app, Style My Hair, lets users experiment with hairstyles and products.
AR may have come to public consciousness as a kid's game on mobile phones, but it certainly hasn't stopped there. Its use is continuing to expand — even showing up on tens of millions of TVs around the world during the opening ceremonies of the 2018 Winter Games — and it's showing up closer to home. As savvy marketers incorporate AR into physical spaces, print signage and mobile device screens, it will continue to create breakthrough customer experiences that drive engagement and conversion.