Pro Tip
How to Make Print Marketing More Personalized than Digital
These days, when you think of marketing, your thoughts probably turn to digital marketing. You may be pouring your marketing budget into website personalization, social media marketing campaigns and more — and it's likely that you're reaping good results from them.
But a marketing campaign that's all digital and no print is out of balance. Print marketing never went away — and in an age when every other email is pure spam, print is making a real resurgence. When you tie together your print and digital marketing, you create a campaign that builds on itself to reach customers effectively.
Who Needs Print Marketing in a Digital World?
Chances are, the answer is: You and your company. In the last couple of years, responses to print marketing have more than doubled. In part, that's because of campaigns linking print and digital marketing — but that doesn't tell the whole story.
When consumers only receive your marketing message through one sensory channel — as happens when they read something on a screen — their engagement with the message is light. When they can actually touch the paper the message is printed on, a second sensory channel is opened, and the brain moves into a new level of engagement.
And all those professors telling college students to take notes on paper instead of on their laptops have tapped into something profound: People remember what they read on paper far better than anything they read on a screen. With all the time and creativity you've taken to craft your marketing message, doesn't it make sense to deliver it via a medium that helps people remember it?
How Print Marketing Complements Digital Marketing
All that customer information you've gathered through digital CRM tools comes in extremely handy when you're building a personalized print marketing campaign. Whether it's branding a brochure for new leads or delivering coupons targeted to existing customers, print campaigns can reach customers where they live — literally.
With the CRM data you've collected, it's now easy to provide QR codes that link a prospective customer straight from your print piece to a personalized landing page or URL, or straight to the product they've been reading about. You can turn around and collect data on how effective your print + digital campaign has been through online analytics tools, making it a simple matter to tweak your campaign for greater reach and response.
In fact, providing that link between print and digital marketing is vital to connect to some customers, since in recent years, more than 50 percent of people responding to direct mail would rather do so online or in-store. That's all the more reason to sync your print and digital marketing campaigns together.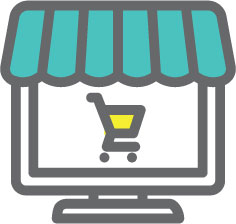 In recent years, more than

50 percent

of people responding to direct mail would rather do so online or in-store.
5 Ways to Build a Personalized Print Marketing Campaign
Consistency is at the heart of any personalized print marketing campaign, especially when you're integrating it with your digital marketing. Keep your message consistent across channels, and use the same colors and fonts in your design work to reinforce your branding. Take a look at other ways to build a successful personalized print marketing campaign.
Add Digital Links to Printed Media
Include your Twitter hashtag, your Facebook page and your website address to all your print materials. This allows customers to connect to your company through their preferred channel.
Integrate QR Codes
Transport prospective customers directly to your website or to specific product pages through QR codes on your print materials. These codes can let you track leads created from each print marketing piece, so you know which campaigns your customers are responding to.
Utilize Variable Data Printing (VDP)
With variable printing, you can use the data you've collected through CRM to know what your customers have purchased previously and even what they've been browsing for on your website. With this information, you can print personalized marketing materials aimed directly at segments of your target audience.
Create Customized Catalogs
Your customers are unlikely to care about your entire product range. So why send them a bulky catalog that they'll only flip through and toss in the trash? Instead, you can create personalized catalogs for individual customers or targeted groups that speak to their specific interests and needs, based on the data you've collected regarding their browsing and purchasing habits.
Add Personalized Print Inserts
If you don't want to create an entire personalized catalog to send by direct mail, you can create personalized offers to include with other mailings or product deliveries. Consider creating coupons or time-dependent discounts to send customers to your website or your brick-and-mortar store, or send special offers to new customers who've made their first purchase with you. When customers realize you understand what they want and are treating them as something special, you deepen brand loyalty and customer engagement.
Consumers are increasingly frustrated by — and consequently immune to — digital marketing techniques such as pop-up ads and banner ads. In contrast, when you invest in personalized print marketing materials, you create a unique experience that can capture the attention of your existing customers and prospective leads.