Navigating The Impact of the Digital Age
The digital age has fundamentally changed how marketers interact with their audiences. Consumers' digital activities have created a wealth of data about consumers' individual preferences and predilections. The result is that marketers can interact with consumers in a far more targeted manner. This trend, called "personalization" because of marketers' ability to "personalize" marketing messages based on individual consumer preferences and behaviors, is powered by "big data." The trend has impacted nearly every aspect of marketing.
For example, personalization has impacted each of the following:
Online Search: Search engines customize search results based on factors such as geography, search history, click behavior and more. Advertisers can target searchers based on search terms, location and other variables.
Social: Social networks customize social feeds based on location, demographics, interests and more. Advertisers can target their audiences based on customer interests, geography and more.
Commerce: In personalizing the shopping experience, Amazon raised the bar for digital retailers. Now, retailers can buy a software personalization engine and plug it into their websites to enable personalized shopping experiences.
Personalization Works For Print, Too
By now, marketers are well-versed in the benefits personalization can bring — 88 percent plan to implement personalized marketing plans and an equal percentage say using data to personalize the customer experience has had a high impact on both ROI and engagement.
However, many marketers may be disproportionately focused on the digital benefits of personalization, while less aware that personalization benefits translate equally well to mediums such as print. Consider that according to the Content Marketing Institute, only one-third of marketers use print to distribute that content. But those that do see its value rate it their most important channel after email and LinkedIn (for B2B) and Facebook (for B2C).
Consumers are primed to respond to personalized print communications — 44 percent of customers visit a brand's website after receiving direct mail marketing (10 percent more than people who visit sites after receiving an email). Data from the Data & Marketing Association (DMA) shows personalized direct mail campaigns can increase ROI by 3X to 10X.
Personalization Drives Page Growth
Looking forward, research firm Infotrends predicts digital page growth to reach more than 200 billion pages by 2018. This growth will be driven in large part by personalized direct mail. Marketers, get ready.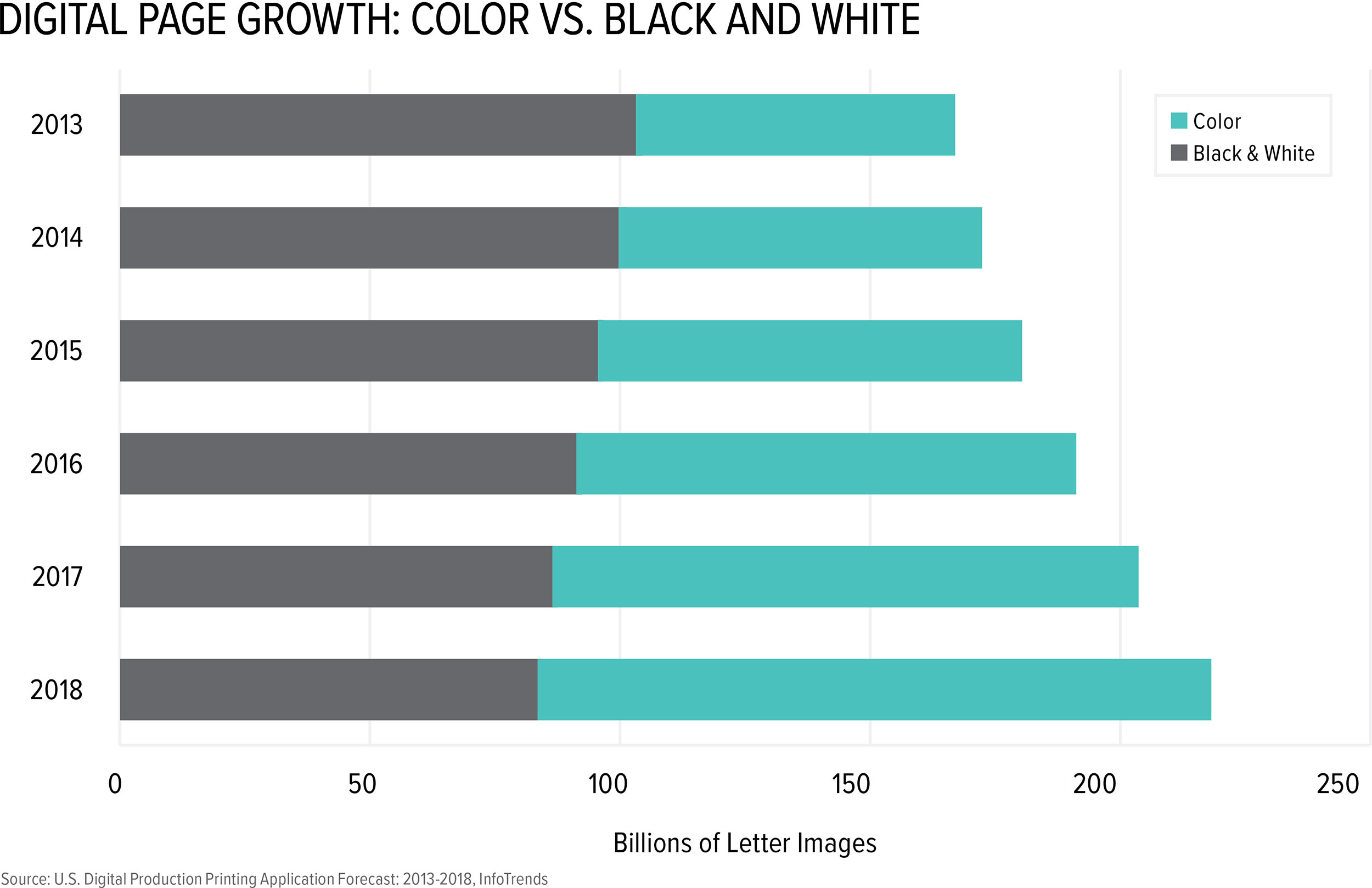 To prepare for the coming growth in personalization and ensure you are well-positioned to capture your share of the marketing pie, position yourself as a key partner to marketers who can help them navigate the new world of personalization. Being thought of as a partner and print consultant will deepen the relationship you have from "printer" to "consultant."
Arm Yourself to Evangelize Print: Despite the obvious benefits of reaching consumers via print, stale preconceptions persist. To help your customers take full advantage of the medium, you'll need to arm yourself to help them see its value: research, data and case studies will all help marketers recognize the value of using print alongside digital channels to achieve maximum results.
Invest in Technology and Personnel: To help marketers turn their big data into highly targeted outreach, they're going to need the right technology — and the right personnel — in order to get the most out of it. This may require a shift in how printers are used to traditionally operating, but having the right technology and people in place will position you to become an important partner to your marketing clients.
Sales Training: With new opportunity comes new ways to spot that opportunity. Make sure you've trained your sales staff to identify marketplace opportunities to personalize print for marketers.