Case Study
B2B Marketing Wins Accumulate With a Digital Approach to Product Labeling for Speed North America
B2B Marketing Wins Accumulate With a Digital Approach to Product Labeling for Speed North America
SKUs boosted 1,000% via effective product demos and quick digital printing turnarounds
Some say B2B companies are becoming more like consumer-oriented companies, simply because everyone — whether a business buyer or a shopper in your local store — is always a consumer first. That also means even B2B companies are increasingly aware of attractive packaging and labeling; not only for themselves, but also for their customers.
Speed North America — a division of Speed Group — embraces this approach fully. A manufacturer of monofilament line for string trimmers for garden and lawn use (they're sometimes called "line trimmers" or "weed whackers"), the company wanted to upgrade the attractiveness and design qualities of what it offered to B2B buyers, who intended to take the company's monofilament line and "white label" it as their own brand. This, in turn, required a strong commitment to attractive, consumer-oriented labeling that would appeal both to B2B buyers and those buyers' customers.
Because 79% of brand owners say that packaging is a key marketing tool for their companies, Speed North America made the decision to embrace modern digital printing to enhance printed labels and packaging designs. The company's new approach to labeling dramatically improved its marketing pitch to new customers, lowered production costs, and improved time to market.
Most tellingly, its business has doubled in size since adopting this more consumer-oriented approach to labeling. Another important figure is the company's current number of SKUs (stock keeping units) — a figure directly linked to the number of product types and indicative of business growth — which have increased 1,000% since adopting this new approach to consumer-focused labeling.
A NEW MARKET, BUT INADEQUATE B2B MARKETING SOLUTIONS
Speed Group traces its roots to France, where the company was founded in 1977, when grass string trimmers were coming into prominence. As the company grew, it expanded first to Canada, but realized that a larger, more profitable market lay to the south. Speed North America moved in 2009 to Wooster, Ohio, largely because of the nearby presence of such major outdoor power equipment manufacturers as MTD Group, providing it with a potential market for MTD's own lineup of weed whackers.
Today, Speed Group overall has divisions in Chile and Morocco, in addition to the U.S. and its global headquarters in France. With its own unique extrusion processes, industry-leading minimum diameter tolerances, and the low-noise capabilities of its products, Speed Group and its divisions consider themselves the global leaders in trimmer line quality.
However, the company had been restricted in its previous choice of a label/packaging provider, which was a small company and not abreast of printing technology changes and design, according to Joe Boyle, supplier chain and purchasing manager with Speed North America. So the company turned to Label Aid, based in nearby Huron, Ohio, and "they were able to scratch the itch we were looking for," Boyle says.
"At that time, we were losing business, because our labels designed for white-label prospects were not compelling or produced quickly enough for presentation purposes," he says. "Label Aid offered great ideas on design, and clients loved it. And their digital printing capabilities, cost savings, and quick turnaround really sealed the deal."
---
Using Label Aid's digital printing capabilities, Speed North America's line trimmer label designs can be produced quickly and cost-efficiently for white-label prospects.
Getty Images / Shana Novak
EMBRACING THE CONSUMERIZATION OF B2B
Speed North America needed to provide first-rate, best-of-breed products, but also needed to appeal to the new and evolving "consumerization" needs of B2B buyers. Driven by everyday consumer experiences of easily demonstrated attractiveness of consumer goods, more B2B buyers are requiring a buying experience that mimics the consumer purchasing model of engaging products.
To acquire new customers, Speed North America felt it needed fresh, exciting, and quickly produced examples of how its packaging and labeling could fuel buyer engagement during marketing and business development presentations. Powerful messaging and cutting-edge design were seen as key at this stage.
"One of the challenges that Speed North America faced was getting labels in a timely fashion," says Darlene Crooks, Label Aid president. Crooks notes that label printing can be done in a variety of ways; most often, via a process known as flexography, which uses flexible printing plates made of rubber or plastic, and is often employed on various types of food packaging, or for large areas of solid color. But while producing excellent results, flexographic printing requires different printing plates for each specified color; which, at around $50 per plate, can be costly and time-consuming to produce. As a result, flexographic printing doesn't pay off if a company needs just a few samples for presentation purposes.
Label Aid does offer flexographic printing, but also has moved more fully into digital printing. Here, the digital process immediately eliminates the need and cost for different plates for each color, with the added advantage of turnarounds as quick as a digital design file can be uploaded to a digital press.
"Speed North America was intrigued by the concept and flexibility of digital printing, eliminating the costs associated with creating new plates for every color," Crooks says. "They also liked the idea of being able to turn things around much faster. This was essential when creating prototype products for new business pitches."
Crooks continues, "When we ran the numbers, it just made more sense to run digitally. We started with flexographic printing for Speed North America's custom labels, but their usage and SKUs proved to be a better fit for digital printing."
"It is not uncommon for customers to give general ideas of the label and package design they wanted … We've been a Home Depot supplier now for two years, and there is always a lot of give-and-take, with different copy and design ideas thrown around. But reaction time is key."
Joe Boyle
supplier chain and purchasing manager,
Speed North America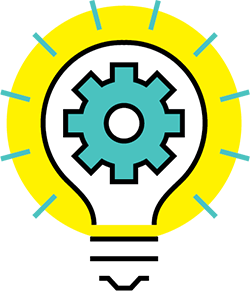 RECOGNIZING THE VALUE OF LABEL MARKETING
Print is, and probably will always be, a central marketing and selling tool. To read an ad, to consider a review, or even to inspect a product label that denotes qualities a consumer is looking for, are all abiding elements of product selection and consumerism. This is no less true for the most utilitarian of products, whether B2B or B2C, including a package of trimmer line sitting on a hardware store shelf.
Beyond appearance and marketing value, label ingredients often must adhere to particular standards and regulations, sales necessities, and directions for use. Proper labeling satisfies these standards, and provides essential information to the customer.
Speed North America's quest for better label creation and production was an essential element in growing its North American market, adhering to a number of critical elements:
Labels provide a clear identification of what the product is and the brand ownership.

They often include some form of quantity measure, such as the gauge and length of trimmer line.

Manufactured components may be included, such as material used in a product's manufacture.
Health and safety warnings may be included, such as a note to always wear safety glasses when trimming grass.
Contact information is always important; in particular, in providing a company website or ways for customers to provide feedback.
Brand identification numbers are generally included, as are barcodes and even geographic sources of the product, as required.
These elements and more enhance the promotion and sale of the product. Product labels are essential elements in brand identification, they help the consumer to differentiate one product from another, and actually prompt buyer preferences in choosing one product over another competing product. These considerations are key in choosing a label provider and design.
Flexographic printing processes continue as the main methodology for label printing. However, according to Packaging Impressions, as digital technology continues to gain inroads in packaging — driven by a multitude of product choices on shelves — brands want to see more variety in their store presentations. One trend is the increase in systems that provide a complete digital solution for labels, as well as making small runs for complex labels more viable.
According to Smithers Pira, digital printing trends show that digital's share of the total print market hit 20.6% in 2018, up from just 9.8% a decade earlier. The firm's analysis shows that the digital printing industry grew from $131.5 billion in 2013 to $187.7 billion in 2018, a compound annual growth rate of 7.4%.
Crooks adds that the need to run vast numbers of labels via the flexographic process also means added warehousing costs, thousands of labels that may go out of date, and inflexibility in making changes on the fly. Digital printing processes cut costs and make short, compelling print runs viable, she says.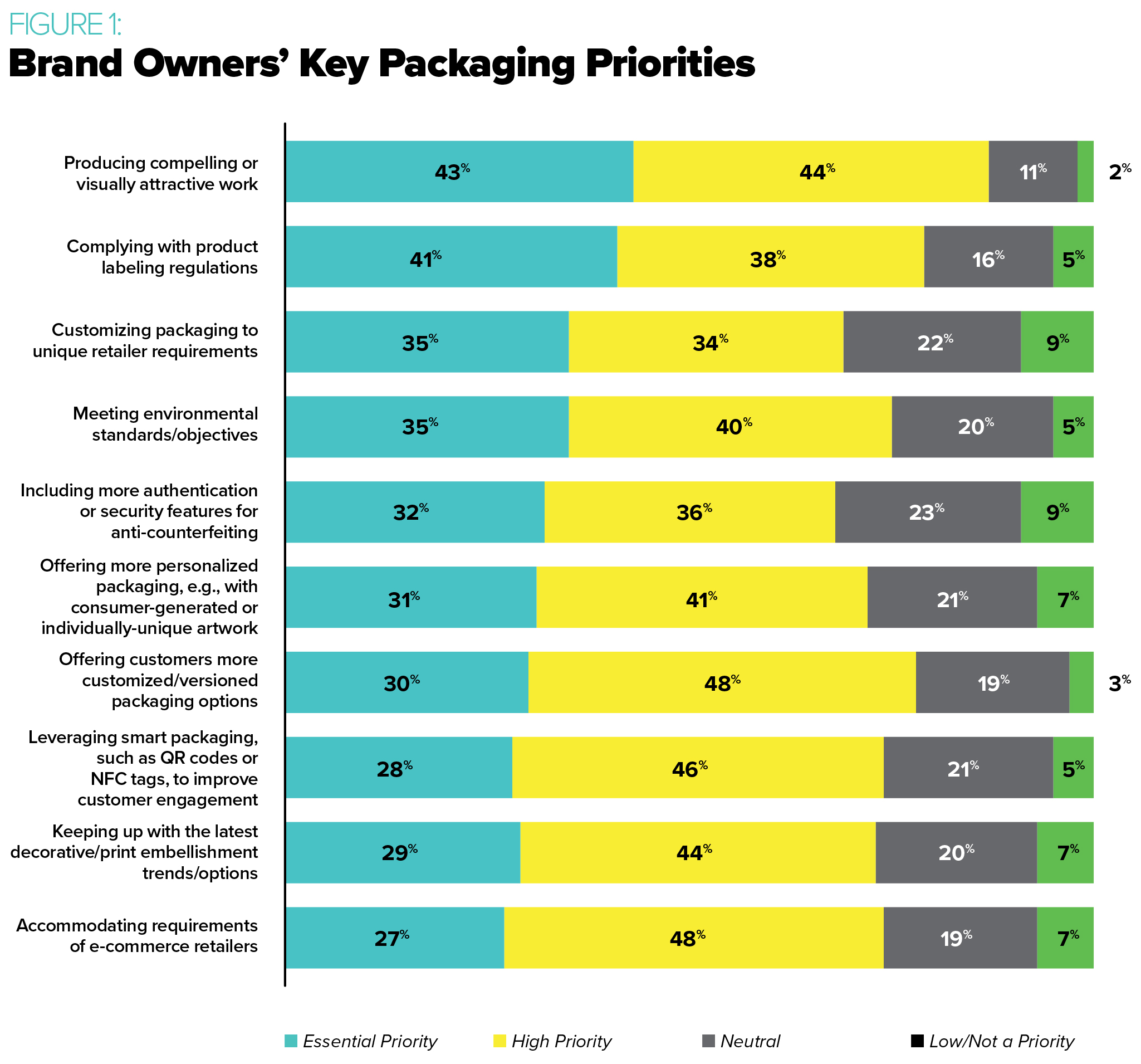 ---
One of the top packaging priorities for brand owners is the ability to produce compelling artwork, with 87% stating it's a priority. Source: NAPCO Research
BRINGING LABELS TO LIFE FOR B2B CUSTOMERS
For Speed North America, implementing Label Aid's digital printing processes was straightforward. The company usually supplied the artwork — often provided by the B2B white-label customer — and Label Aid would produce prototypes based on
these designs.
When approved by the customer, Label Aid would run the required number of labels, and Speed North America would produce and distribute the packages, complete with the newly engaging label.
"These prototype samples allow brand owners to evaluate the complete label package prior to full-scale production run, giving them the opportunity to decide if the examples were truly what they wanted," Crooks notes. "They might then change material, color, or copy, of course, but we can make all those adjustments at little cost, thanks to digital printing."
Sometimes a Speed North America customer would have precise artwork, and at other times the company and Label Aid would work together to make compelling label samples for customer inspection.
"It is not uncommon for customers to give general ideas of the label and package design they wanted, and then we'd go to Label Aid, and their art department would work its magic," Boyle says. The back-and-forth could be ongoing. "We've been a Home Depot supplier now for two years, and there is always a lot of give-and-take, with different copy and design ideas thrown around. But reaction time is key; if Home Depot says they're looking at this particular design and copy, we'd communicate that to Label Aid and they'd produce a prototype quickly."
Label Aid's Crooks understood immediately the urgency of client requests.
"I would say the largest benefit in trying to launch a new product is having the ability to provide samples, and test prototypes of what a product will actually look like, before you set up to run the job," Crooks says.
"Speed North America was intrigued by the concept and flexibility of digital printing, eliminating the costs associated with creating new plates for every color. They also liked the idea of being able to turn things around much faster. This was essential when creating prototype products for new business pitches."
Darlene Crooks
president,
Label Aid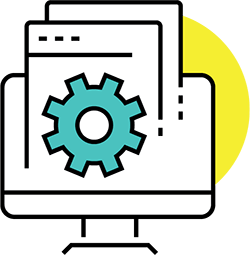 DIGITAL LABEL PROTOYPING SKYROCKETS SKU GROWTH
Revenue for Speed North America has doubled since adopting its new approach to label production, as prospects have responded well to quickly produced, compelling prototypes. Another key indicator of success is the company's number of SKUs. Prior to going to Label Aid, Speed North America maintained a SKU count of only about 60 or so distinct products for its customers. 
Currently, the company has more than 1,100 SKUs, each one identifying a different type of trimmer line; whether by shape, color, length, or brand. While Speed Group is a private company and does not divulge revenue or income figures, its rate of SKU growth, attributable to its new approach to label prototyping and production, is about 1,000%.
Boyle also notes that Speed North America is achieving a lower cost per label with Label Aid and its digital processes. This can be seen most dramatically in a possible shift away from flexographic printing, where a four-color run for a single label would require four separate plates, each costing around $50. With 1,100 SKUs, noted above, that ends up being up to 4,400 plates and costs of about $220,000. Speed North America is saving that by having its labels printed digitally. Of course, different tasks require different processes, and both flexo and digital printing have their roles. However, the Flexographic Technical Association has estimated that digital printing may be more cost-efficient with runs of less than 3,500 linear feet of printed material.
"We're really proud of the work we've been able to do for Speed North America," says Crooks. "Our ability to offer both flexo and digital printing has assured not only an appropriate technology when required, but also quick turnarounds and cost savings with shorter runs. The importance of labels may often be overlooked by B2B buyers and even consumers, because we're all so used to them. But in reality, well-designed, informative, and finely produced labels can be a marketer's best friend. We are proud of the partnership we have built with Speed N.A."