Case Study
Home Brewing Co. Hones Creative Marketing With Digitally Printed Labels
Home Brewing Co. Hones Creative Marketing With Digitally Printed Labels
Boutique brewer learns digital printing can strengthen long-term strategies and boost savings
In today's world of micro-brewing, specialty beers can be produced faster than offset print shops can produce the labels — creating a demand that can be fulfilled efficiently through digital-print options. Partnering with Ideal Print Solutions, Home Brewing Co. (HBC), found a way to not only produce on-demand labels via digital printing, but also to take back valuable warehousing space and reduce overhead that's tied up by large print runs — often on labels for beer flavors that are no longer being produced. With a labeling device onsite, HBC applied short-run labels directly to cans in time for a critical release party that almost didn't happen.
George Thornton founded Home Brewing Co. in 2012 as a home brew store, and the brewery was added in 2014. Recognized earlier in 2018 by American Homebrewer's Association, HBC was awarded Best Home Brew Store in the U.S., but owner George Thornton asserts the brand has no thoughts of conquering the larger beer-making world.
According to Thornton, "We are focused on providing great beer to our community, and promoting other enthusiasts, such as makers of homebrewed beer and cider, hot sauces, cheeses and other fermented products. Our tasting room has become a hub for a well-defined and thriving culture we thoroughly enjoy not just being a part of, but cultivating."
Photo courtesy of Joe Park
Creative Marketing Strategy Fosters Brand Awareness and Loyalty
Like many small companies, HBC — an independent brewing and homebrew products provider — has limited funds to invest in marketing. Its efforts must be laser-focused on the types of events that will produce optimum results in reaching its target audience, establishing its brand, creating brand loyalty and saving money. With an annual marketing budget of only $5,000, low- or no-cost social-media conversations and word-of-mouth marketing play important roles in brand awareness and are used to announce monthly beer release parties — a platform on which all the brewery's other marketing efforts are based.
Held in HBC's 2,000-square-foot storefront and warehouse located in San Diego County, these release parties typically attract between 50 and 60 people and are designed to be a memorable customer experience for them, on several levels. Well-designed and intriguing beer can labels add a unique and mysterious component to each event, which helps generate interest in the new beers and the brand, as a whole.
In its distribution network, where beer drinkers often choose to taste a new beverage based upon the design of the beer label, HBC capitalizes on the lower costs and faster delivery of new label designs in order to react quickly to customer response. The immediacy of digital printing embodies HBC's ideals about product freshness, quality and creativity. With an accelerated label-creation and implementation process, more flexibility with planning and creating flavors, the brand has had additional opportunities for promotion as part of its creative marketing strategy.
"This collaboration has been great for our brand, because we now have the ability to provide something new to our customers every month — we don't have to plan creatives so far in advance, which helps us to be more creative and fun, and to deliver an exceptional customer experience."
George Thornton
founder,
Home Brewing Co.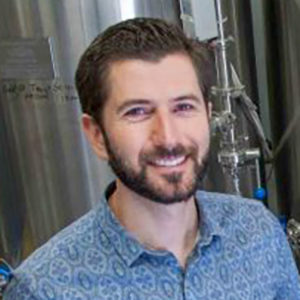 Creative Label Designs Positively Affect Purchase Decisions
Using social networks, an in-house social media manager is responsible for creating awareness of the brand and of the release parties within HBC's online and offline community. Text and imagery, especially of the beers, help to encourage social and word-of-mouth sharing and create a connection between the brand, as well as its design and flavors. Distribution to local pubs also benefits from the well-designed labels in an environment where, according to a 2016 Lewis Label Products article, 84.7 percent of people making a purchase decision are influenced by packaging color. HBC works with designer Tyler Cristobal, a shareholder in the company, to consistently produce brightly colored, highly engaging labels.
HBC gives credit to engaging designs for its female marketshare — about 50 percent of its customers are women. This percentage is much higher than the national average, according to a 2018 survey conducted by Nielsen Harris on Demand. In the survey, the gender of those who had consumed a craft beer at least several times a year were only 31.5 percent female. In the retail sales of its homebrew kits, HBC found men represent the larger audience, at 60 percent, but its overall audience is the envy of any company, no matter the size.
Until recently, Home Brewing Co.'s labels were produced at an offset shop, which uses large presses with printing plates — a process that can be lengthy and one in which savings are realized only when the quantity of labels reaches a certain threshold. In the case of HBC, this was 1,000 labels, which meant valuable capital was tied up in labels and canned beer. With so much on-hand inventory, the release of new flavors slowed, as did the release parties. Today, benefitting from digital printing, HBC has the ability to print fewer labels and produce smaller batches of 500, more often and with far less waste.
Using Digital Printing for Labels Became a Powerful Solution
In March 2018, HBC learned its current provider would not be able to deliver the labels in time for its monthly release party of not one, but three new flavors — just a week and half away. In search of an interim solution, Thornton spoke with customer/investor, Maureen Brock, VP of business development at Memjet. She thought immediately of Ideal Print Solutions, a label converter that manufactures labels in-house, including flexo, digital and hybrid, and sells and integrates labeling systems for in-plant and in-house use.
Ideal Print Solutions showed HBC how short-run, digital labels could be created more quickly and with minimal changes to the already designed beer can artwork. Thornton didn't have the time to vet dozens of solutions or providers; it came down to what could be done in the time remaining that would still represent the quality of HBC's products. The confidence of Larry Corrado, owner of Ideal Print Solutions — in being able to meet the critical deadline, his assurances that the digital printed product would be of high quality and his company's dedication to help HBC solve the problem — won the company the project.
Like all customers considering the switch from offset to digital, HBC had to ask hard questions. And though Ideal Print Solutions had the answers, trusting the business with the project was not without concerns. The label company was in the process of moving its production facility and the new location was only partially functional; it was without electricity and Ideal Print Solutions was operating equipment under the power of a single outdoor generator. In spite of these challenges, Corrado made a commitment to deliver.
"We had no electricity and were completely reliant on a generator, but I could hear George's panic about having no can labels for the release party. Though I knew we couldn't do this on our manufacturing floor without sufficient power, I felt we could provide the solution. I told George it was not ideal, but together we decided to take a chance," said Corrado.
Ideal locked down the production process. But in doing so, another issue arose: the label material would need to be compatible with ink and over laminate. Without the necessary time to test the durability of the labels on beer cans potentially covered in ice, there was reason to be concerned. Ideal chose an alternate supplier for matte laminate and soaked samples overnight to ensure the material would not fail. There was no data that said it would work, and the company would normally test more, but there simply wasn't time. Other users had said it would work, so when the tested material held up to the water, everyone breathed more easily.
Making minor adjustments to the existing art files, the digital print solution performed flawlessly, and the finishing system performed equally well, even though Ideal Print Solutions did not have a die for the specific beer can in-house. Using the die-cut features of the finishing system, Ideal was able to precisely cut the stock to fit and delivered the labels on time.
According to Thornton, "I was concerned the length of the run wasn't worth it to Ideal [Print Solutions] and they would view our project as an inconvenience — especially because they were moving their facility at the time. Larry assured me the solution they offered was an exact fit for our quick-turnaround and short-run needs. I knew in advance our job would be run on a generator, but we were happy Ideal was willing to take the risk and shared our can-do attitude."
"We had no electricity and were completely reliant on a generator, but could I hear George's panic about having no can labels for the release party. Though I knew we couldn't do this on our manufacturing floor without sufficient power, I felt we could provide the solution … together we decided to take a chance."
Larry Corrado
owner,
Ideal Print Solutions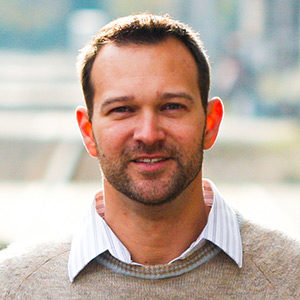 Down to the Can
HBC subcontracted a mobile canning service, which provides an on-site line for small breweries — often short on resources and floor space — from having to make large investments in equipment. HBC's new release was canned on-site, Ideal Print Solutions delivered final labels just two days before the event, and HBC applied the rolls directly to the cans. Without a glitch of any sort and with high-quality labels applied, customers were completely unaware of the crisis that led HBC down the digital print solutions path.
The entire scramble became a story of its own — one HBC promoted through the use of Instagram Stories, an online social format of 15-second videos with more than 300 million users who interact with these stories daily. This mobile-friendly format further engaged followers by allowing them to follow and experience the marathon label-production process nearly first-hand.
Thornton says, "This collaboration has been great for our brand, because we now have the ability to provide something new to our customers every month — we don't have to plan creatives so far in advance, which helps us to be more creative and fun, and to deliver an exceptional customer experience. Beer consumers are looking for that new, exciting thing to do and our release parties are fun and keep our customers engaged and help us to deepen brand loyalty."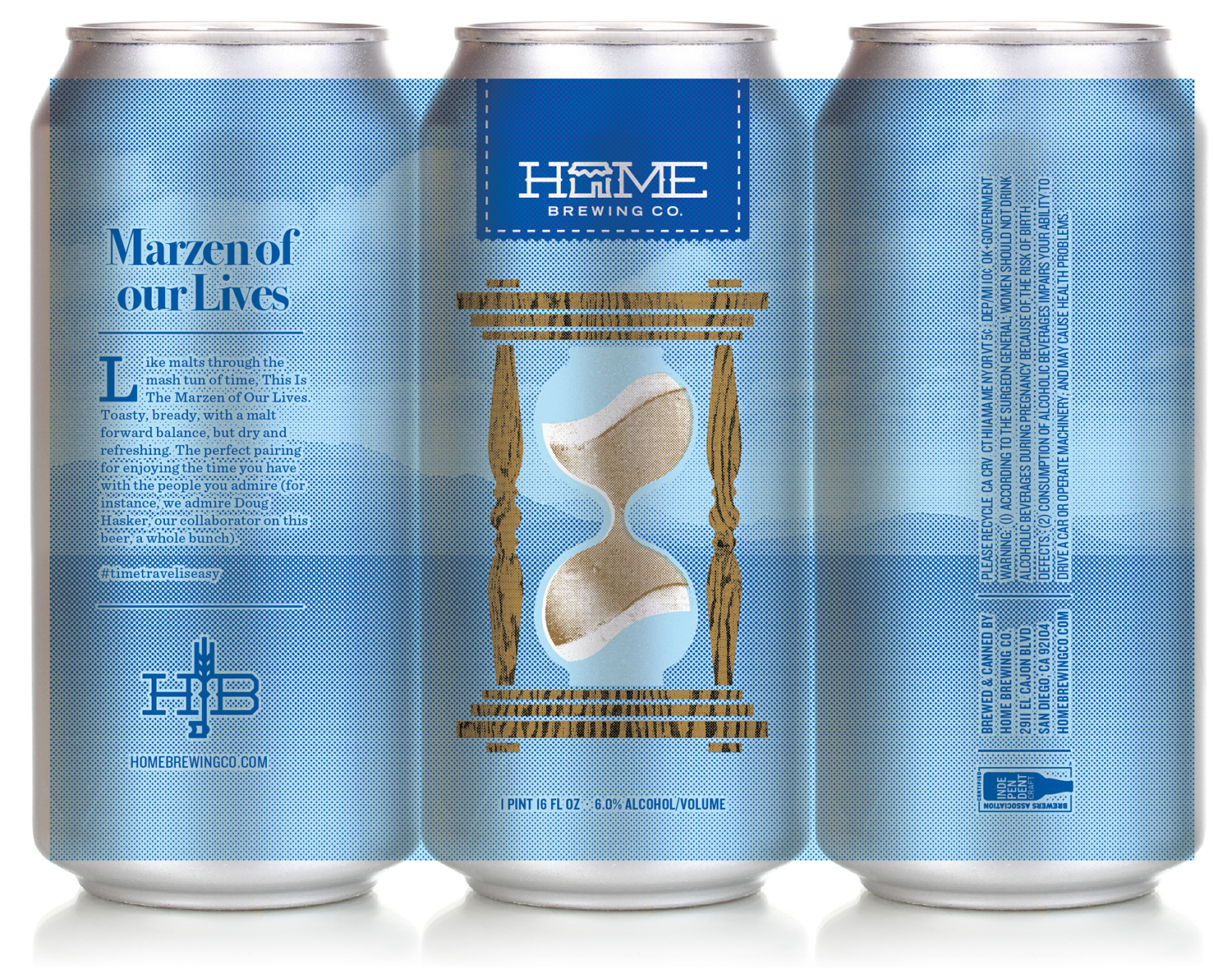 Using short-run digitally printed labels for Home Brewing Co.'s beers allows the brewer to be creative with can designs, while saving money by trimming waste and reducing excess inventory.
More Value for Digitally Printed Labels Than Cost Savings
"We've now been able to rethink how we can become more self-sustaining with our can releases, and shorter runs mean we can spend less as we learn more about our consumers," says Thornton. This process saved HBC about 5 cents per label by trimming waste and reducing excess inventory. More than that, it saved HBC's reputation at a critical launch party by ensuring its brand was upfront and top-notch. "We no longer were forced to buy a pallet of labeled cans that would tie up much-needed cash and for which we have inadequate room for storage. Now we can do smaller and more frequent can releases, and are considering purchasing a smaller canning unit so we can be more autonomous."
The switch to short-run digital labels has saved HBC 15 percent of wasted overhead, allowing it to reclaim 10 square feet of floor space and 80 cubic feet of air space above that — a place for items with a faster ROI, for retail products and for other experiments.
The search for a short-term solution exposed an option HBC did not know was available — shorter runs — and the boutique brewer came to realize this pinch hit was a way to leave behind the requirement to order 1,000 units, when the actual need was for half of that. For a company focused on slow growth, and keeping products fresh, the benefits of short digital print runs became more evident as the project progressed.