Case Study
Kekionga Cider Company Refreshes Its Look to Attract Audience and New Retail Markets
Cidery relies on the speed of digital printing to move from bottles to cans
Beverage companies are the perfect use case for digital printing: They're moving toward just-in-time production to avoid carrying a large inventory, the FDA requires that beverage businesses update their labels every time they tweak their ingredients, and the speed and flexibility of digital printing give businesses a competitive edge when bringing new products to market. So when Kekionga Cider Company needed labels on-the-double, they turned to Accu-Label for a digital solution.
Kekionga Cider Company is the business and passion project of two old friends in Fort Wayne, Ind., who started out with only the two most important items: an old basket press and an apple tree. The company, which opened its doors to the public in the summer of 2017, offers mainstay ciders using local ingredients — such as Bramble On, made with Kendallville Winesap apples and Fort Wayne blackberries — as well as seasonal ciders, like Peterson Pear and Holy Crapple.
In late 2018, owners Logan Barger and Tyler Butcher wanted to lower their product prices to a point that would be attractive to retail stores. To do this, they decided to ditch their bottles in favor of cans. Due to being made of aluminum, cans have tighter seals to maintain freshness and are impervious to flavor-destroying light. The choice of going with cans over bottles also means that the product can be chilled faster, stacked more easily and, overall, is lighter to ship, saving producers money.
Aluminum cans also beat out all other beverage packaging when it comes to sustainability, because they have a higher recycling rate and the material can be recycled endlessly, which also played a role in their decision. "You always want to strive to be sustainable in today's world, and cans help us go in the right direction," said Barger. All of these benefits make cans attractive to retailers and cider drinkers, alike.
Cans would also allow Kekionga to expand into markets even beyond retail, such as concert venues. Clyde Theatre in Fort Wayne, which hosts such acts as Los Lobos and Three Dog Night, told Barger that once its cider was in cans, the theater could sell it in the open access area — rather than confining it to the VIP lounge. Glass is normally banned in concert venues and at beaches, pools and other public spaces, because of the risk of injury that comes from broken glass in a crowded place.
Finally, many cider drinkers simply want to quaff the beverage from cans. Canned cider consumption is on the rise, probably because the market for alcoholic beverages at large is becoming more interested in portable, easy-to-drink packaging. Even companies that produce wine, spirits and mixers are jumping on the can trend for this reason.
Image courtesy of Accu-Label.
Product Packaging Influences Buying Decisions
Making the move from bottles to cans led to the need of a new label; because cans don't come in a cardboard carrier, as bottles do, the cans themselves become the marketing that attracts customers.
Seventy-nine percent of brand owners say that packaging is a key marketing tool for their companies. Barger agrees. "Customers like pretty, uncomplicated stuff that's easy to help them make decisions in the retail atmosphere," he said. "People in the mill can taste the cider, so it's an easier sell. In the retail environment, the label is everything."
Cans with labels also may be more enticing to customers than bottles (or cans) enclosed in a cardboard holder, because they reveal more of the product itself. A researcher from Clemson University ran a study using a simulated shopping environment to determine whether packaging that shows more of the product would attract more consumer attention than its higher-coverage counterparts. The result? Consumers did indeed purchase more products in the revealing packages.
As part of the project, Barger and Butcher wanted to completely revamp their labels to focus on the Kekionga brand, rather than the ciders themselves. "We wanted the company to be the first thing that people saw, and then the product be the next," said Barger. "So the new design would just be our company logo, with a different color style and a different name for each can."
Smart move: The branding of a product can be more important than the product itself. Two businesses can sell essentially the same product, and it's the branding that makes one a premium product, while the other is viewed as a commodity. Think brand name vs. generic grocery items, which are often the exact same product.
This plan also let the company cultivate a consistent look: When the cans are lined up on a retailer's shelves, they give a "billboard effect," with the colors of the different products complementing one another and the logo bringing it all together into a coherent display.
Image courtesy of Accu-Label.
Smaller Minimum Orders Lead to Bigger Benefits
Once the decision was made to move from bottles to cans, Kekionga Cider Company's owners wanted to move fast. They had recently bought a used canning line from a company in Pennsylvania, and friend of theirs in the production line business got it up and running much sooner than expected. "When you buy a big piece of equipment, you want to get to using it as quickly as possible to start making some money," Barger explained.
They did a dry run with sparkling water — though "dry" might not be the right word for the run-through — and when it worked, it was time to move on to the new labels. It was already November, and Barger wanted to launch the labels on Dec. 8, in time for the winter holidays.
For beverage cans, the options are to print labels directly onto the cans, or to have blank labels printed and applied to the cans. "To have cans pre-printed, the minimum was way out of our budget," said Barger. "It was more economical for us to buy blank cans and have labels printed to be put on … plus we already had a label applicator we'd bought for labeling our bottles."
When Kekionga Cider Company first opened in 2017, Barger hired Fort Wayne-based Accu-Label to print its bottle labels, because other printers Barger talked to required a large minimum order. Barger didn't know at the time how many labels his company would need — but what he did know was that investing a lot of capital in a large minimum order, and then having those labels sit in inventory, wouldn't be a good business move.
Accu-Label gave Kekionga the opportunity to choose a smaller minimum for its bottle labels, so the company became the cidery's preferred printer. That experience was so positive, it was an easy decision to turn to Accu-Label again for the can label project.
"Customers like pretty, uncomplicated stuff that's easy to help them make decisions in the retail atmosphere. People in the mill can taste the cider, so it's an easier sell. In the retail environment, the label is everything."
Logan Barger
co-owner
Kekionga Cider Company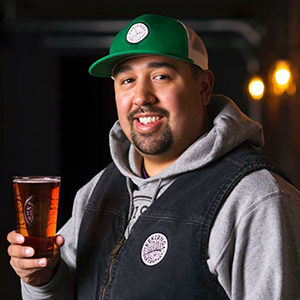 The Right Label Design Draws in a Key Audience
The next step was to create the label designs. The biggest demographic for Kekionga Cider Company is women from their late 20s to early 40s; this is in line with GfK MRI data, which reported that 31 percent of hard cider drinkers are Millennial women. To cater to this demographic, plus help their cans stand out on retail shelves, "We wanted a design that was very simple and sleek, with lighter colors," Barger said. "We didn't want to overcomplicate the design."
A big challenge for Accu-Label was creating the new label designs quickly enough to leave time for the rest of the printing process. Its graphic designer, Nate Morken, got to work and drew up four designs for each of the three new labels. Once he presented Barger and Butcher with the samples, they chose the elements from each design they felt best captured their audience, and Morken developed the completed labels.
The new labels boast many of the elements Millennials find important in packaging: Clean design, unique typography, hand-drawn images and vibrant colors.
Image courtesy of Accu-Label.
Digital Printing Creates Eye-Catching (and Legally Compliant) Labels
When it comes to printing, alcoholic beverage labels have a characteristic that makes them a sticky problem, so to speak: They need to fit a lot of information into a small space. Labels measuring only about 3 1/2 x 7 3/8" must tell customers everything they want to know to make a buying decision — from the ingredients to the canning location — plus include the government warning that all alcoholic beverages legally must display. And of course, in order to attract customers in the first place, that little slip of paper still needs to be attractive. One of Kekionga Cider Company's product labels has small yellow type on a blue background, making the challenge even more difficult.
Accu-Label offers both flexographic and digital printing, but the tight registration needed to make the tiny type legible led the printer to suggest digital for this project. "The yellow copy was really the only one that we ended up having to tweak," said Catie Manning-Ewald, creative and marketing director at Accu-Label.
The need for speed was another deciding factor in choosing digital printing. Shorter production lead times — typically just six days after file submission for labels and packaging — is a key reason businesses, and their customers, opt for digital printing. "By the time we got final approvals on this, it was within the same week that we were turning it around and putting it on the press," said Manning-Ewald. "It was very tight."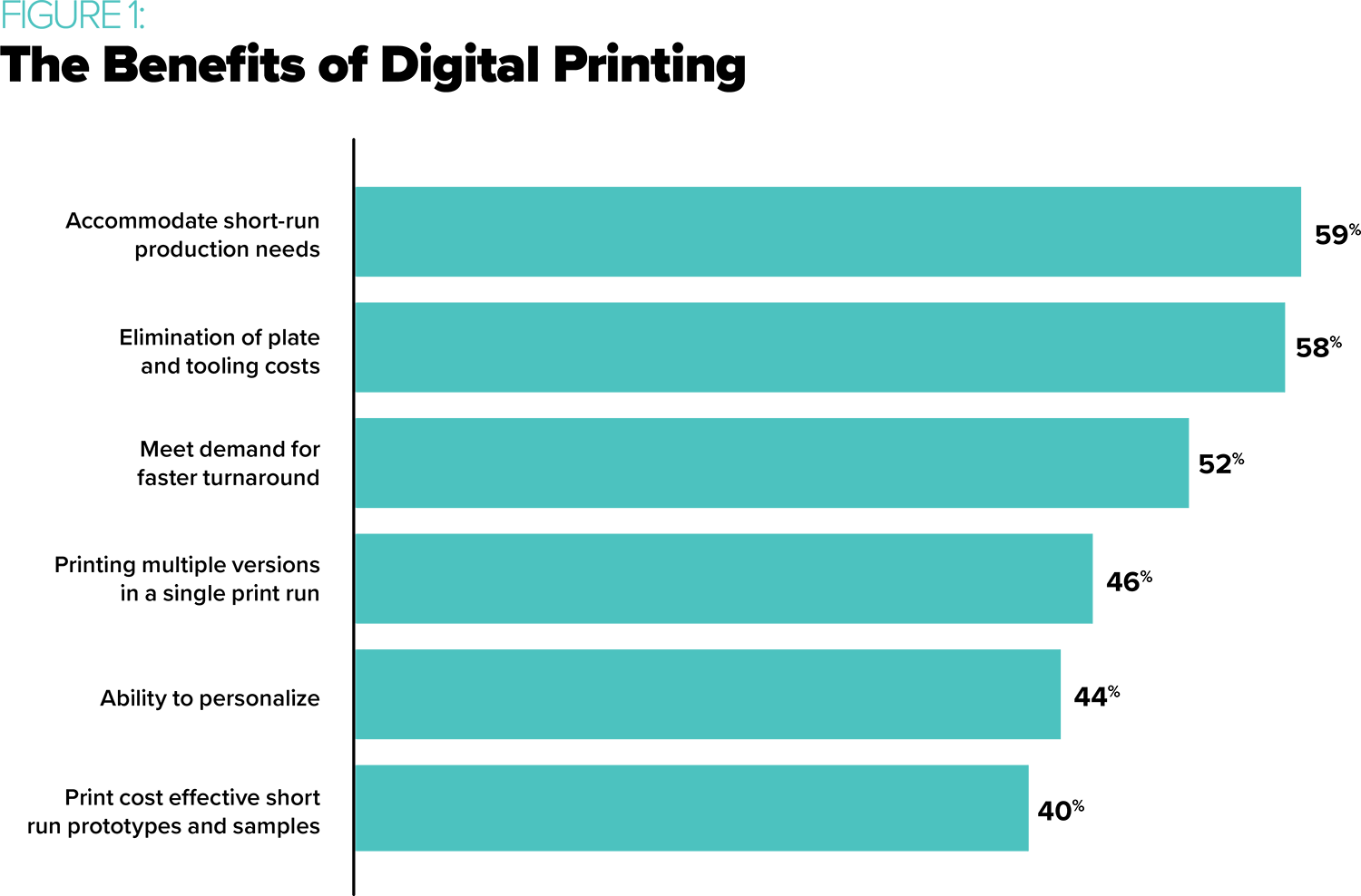 ---
Survey respondents shared some of the key benefits that digital printing offers for package printing. Source: NAPCO Research
Redesigned Labels for Canned Cider Help Expand Sales and Footprint
The labels were finished in time for Barger and Butcher to host their can release party in December 2018, where they debuted the new labels to much acclaim. "We had a big party day, where we ran a special on pints and growler fills, but the main focus was on cans," Barger said. "We had cans in a cooler, and a big display of them. For every four-pack a customer bought, we gave away a koozie. It went over really well."
"Really well" may be an understatement. When Kekionga Cider Company posted the first photo of the new cans on Facebook to announce the release party, plus the two new flavors it'd be launching that day, that post reached over 3,000 people in one day — double the 1,100 to 1,500 people the company's posts normally reach. The party was a hit, with some customers buying two or three cases of cider (and walking out with an armful of free koozies). The mill sold 100 four-packs of canned cider; in fact, it ran out.
Originally, Kekionga's bottled products were sold at only a few S&V Liquors locations. But since switching from bottles to cans, the brand can now be found at the majority of S&V Liquor locations, as well as at Belmont Beverage stores. And the cans are jumping off the shelves. "Since launching cans two months ago in December 2018, we have canned over 200 cases," said Barger. "Our last bottle run, which was at the end of September 2018, we did around 50 cases — and we still have some of that inventory at the mill."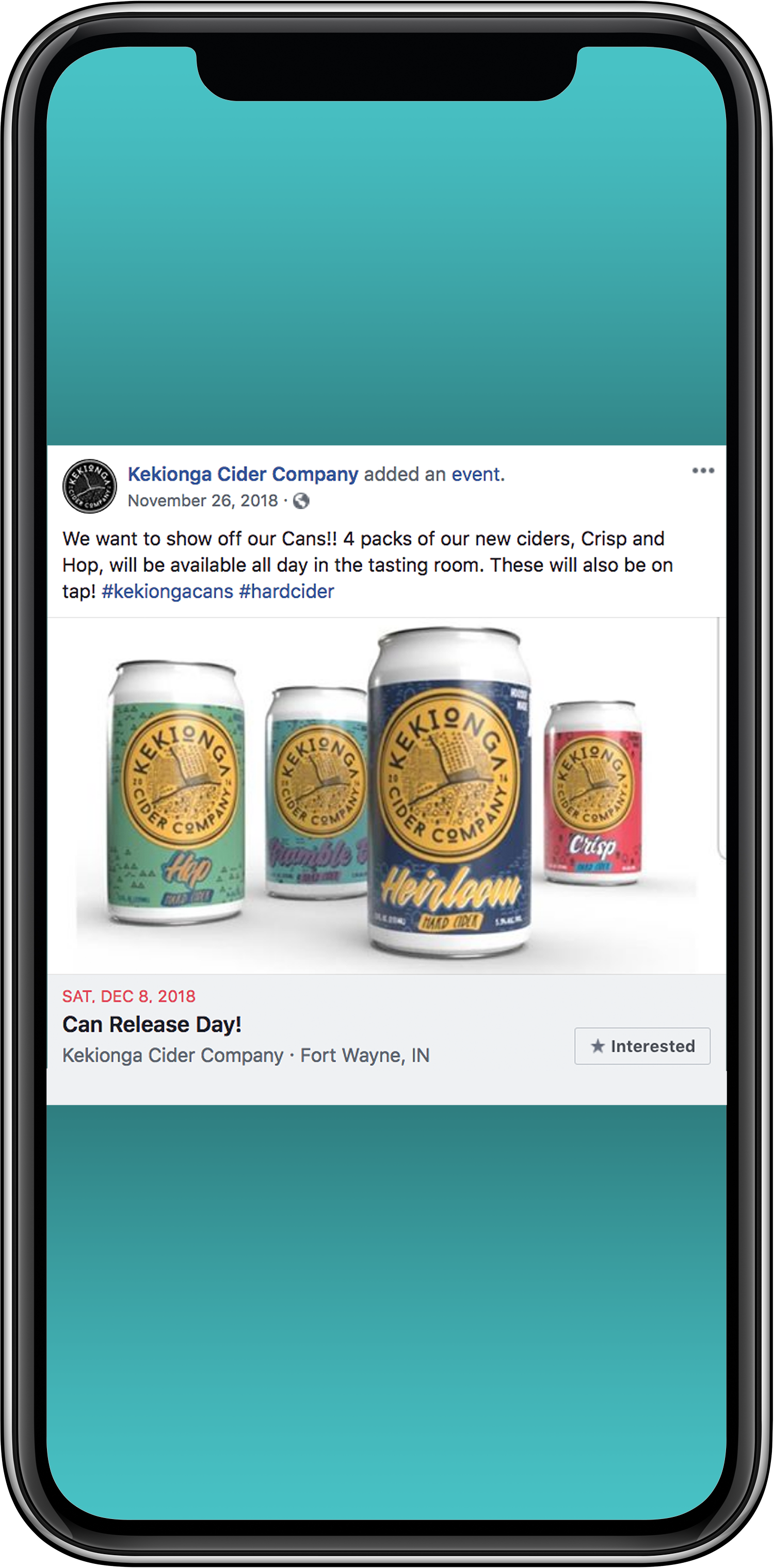 Announcing the new can designs, as well as the can release party, on Facebook garnered Kekionga double the reach of its usual social media posts.
Less than a month after the can launch, a distributor bought 80 cases of canned cider, which was the largest order the company had ever gotten. Before that, Kekionga's largest order was a mere 30 cases, making this shipment a 167% increase over its previous largest order. Finally, thanks to the switch over to cans, Barger and Butcher did end up getting their ciders into the open access area of Clyde Theater, and they look forward to showing up in other public spaces, as well.
Barger hopes to expand Kekionga Cider Company's distribution into other states. "We're in some accounts down in Indianapolis right now," Barger said. "We want to be available in the whole state, and then by next year we want to be in Northern Kentucky and Northwest Ohio." He's confident that the sales boost from the new labels, as well as the shippability of the new cans, will help the company reach that goal.